Motorcycles are a great way to get around, but how does one go about getting a motorcycle license? This article will walk you through the process of how to obtain your motorcycle license step by step. It includes how to find an appropriate class for your experience level, how much it costs and how long it takes.
Deciding what motorcycle you will need
Your motorcycle training
Taking your compulsory basic training
Doing your theory and Hazard Perception
Getting your Full Licence Training
How do I decide what kind of motorcycle I will need?
When it comes to selecting what motorcycle you will need for your test, the learner rider is advised to use a motorcycle of the same type as they intend on riding. So, if you are intending on getting your full licence to ride a cruiser then it's best that you do your theory and hazard perception tests using this particular bike.
However, when choosing what bike is right for you, it's worth bearing in mind that you may face some restrictions depending on your age. If you are under the age of 24, you will face additional restrictions. You can learn more about this here from my motorcycle licence guide.
I always advise testing out a few motorcycle styles to get a feel for what kind of bike suits your best. Bike styles are very unique to the rider but only by sitting on and getting a feel for the shape and size of a bike will you really know what's right for you.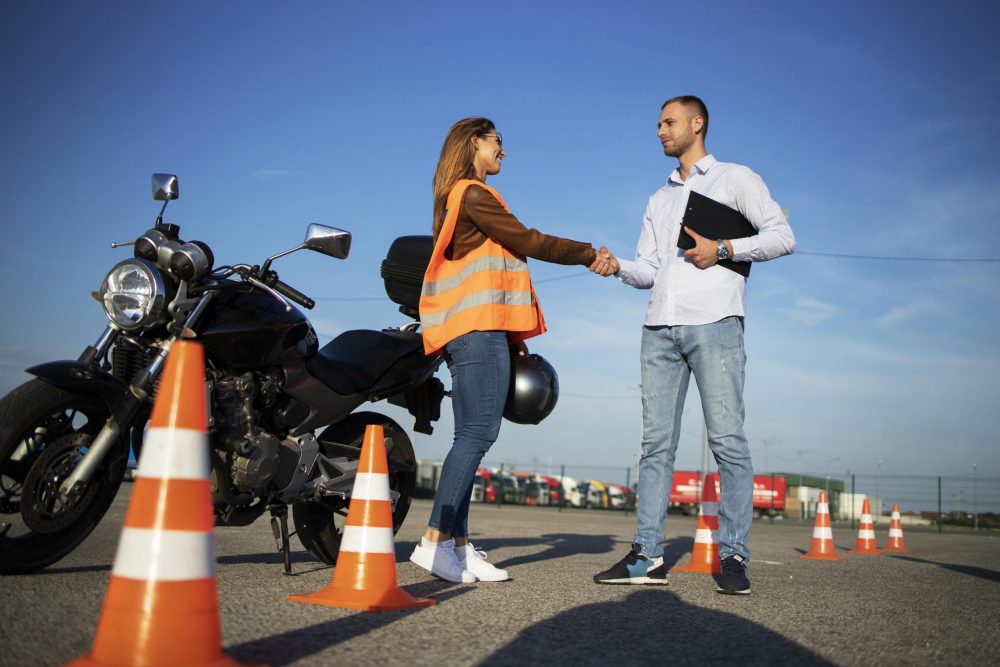 What to expect when it comes to your motorcycle training?
It doesn't matter if you want to ride a street bike or a sports bike, quality training is important. Many riders think it's not important to learn how a motorcycle works or how they handle. This is dangerous thinking as crashes can happen at any time and without warning.
When you book in for your motorcycle training, not only will you be taught how your bike works and basic skills, but you'll also learn vital information such as how your bike handles in different conditions such as wet roads, or with additional weight on the back.
Now you don't necessarily need to pay for motorcycle training. You can take a motorcycle safety course, or read how-to motorcycling books and videos. Doing this will provide you with the basic information that you need to start riding. However, relying on self-taught training can be dangerous. Ultimately you don't know what vital information you're missing out on.
Getting your training from a qualified instructor means you'll be in good hands. Not only will you be taught by someone who understands the necessary skills to ride a bike, but you'll also be taught by someone who is familiar with test routes – this could ultimately be a making or breaking point when it comes to sitting your motorcycle test.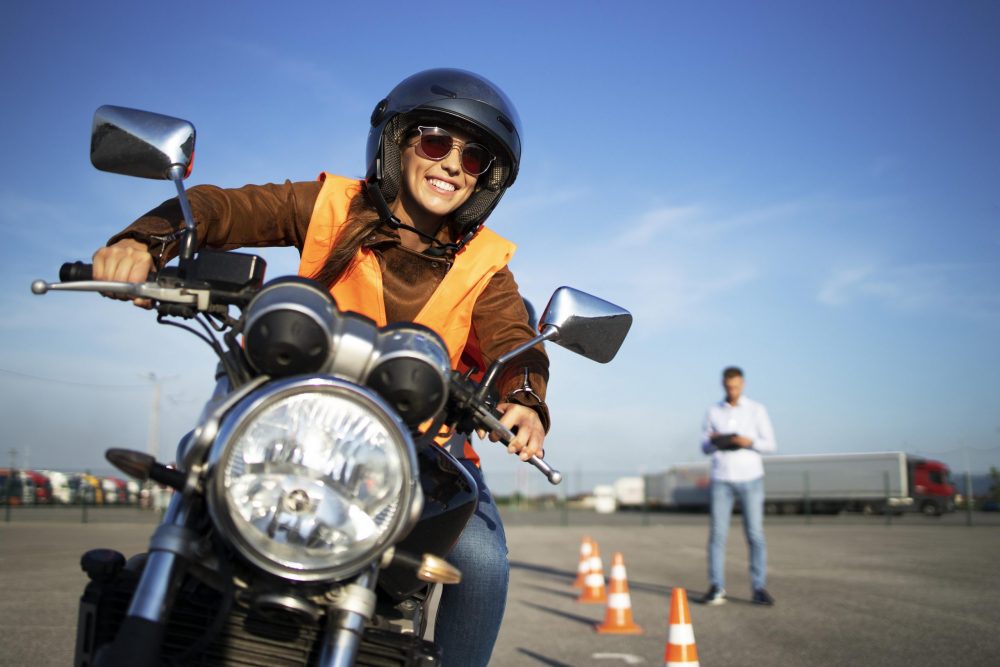 Taking you compulsory basic training (also known as CBT)
Getting your CBT is the first step to getting your motorcycle license.
There are two types of CBT course you can take: a one-day course or an evening course that can be spread across multiple days. The main difference is how much time and money you want to spend on it. If you're looking for something quick, cheap and effective then taking a day course is often the cheapest way forward.
However, evening courses can be useful as well. For example, returning bikers who work full-time, may not necessarily have the time to dedicate a full day to training.
The motorcycle CBT can be broken down into two sections. The first section revolves around learning basic bike operating skills. For example, turning on the bike, shifting gears, clutch control and basic manoeuvring skills. The second section of the CBT involves going out on the road and applying what you learnt to real-world examples.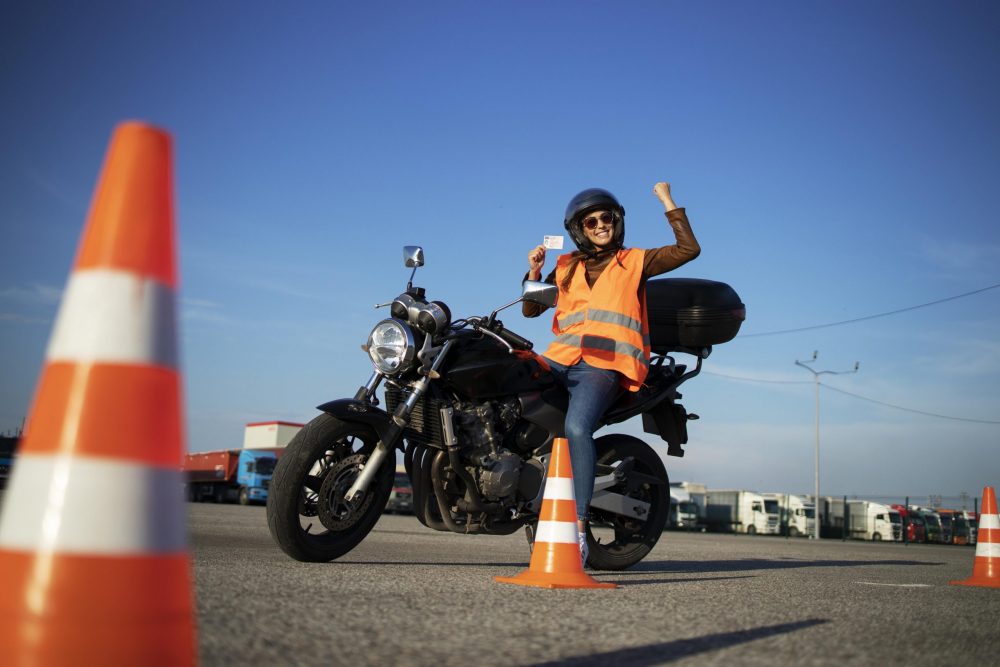 Doing your theory and Hazard Perception
You can book your theory and hazard perception tests online – how easy is that? It's also possible to phone up the DVLA or go into a local branch office if you prefer (although I would recommend making an appointment first).
Doing your theory and hazard perception test doesn't need to be stressful. There are a whole variety of available apps and websites online that deliver free to use resources. It's also possible to pop along to your local book store and buy a book on the subject.
When it came to sitting my theory test, I downloaded the official DVLA theory test app. The app comes with hundreds of questions that you can practise with.
The theory test questions revolve around your understanding of information such as road signs, traffic lights, rights of way, pedestrians and things such as speed limits. It can also ask you questions about your vehicle such as tyre tread depth.
Hazard perception is a computer-based test that shows you how to react when there are real road hazards in front of the rider. The hazard perception test is an interactive short film that's been made by experts in order for you to assess how well you would be able to react in dangerous situations like being distracted at the wheel or carrying out emergency manoeuvres.
After completing your theory and hazard tests, it's important to take some time off before doing the practical riding assessment (PRA). The DVLA recommends having at least two weeks free before undertaking the PRA.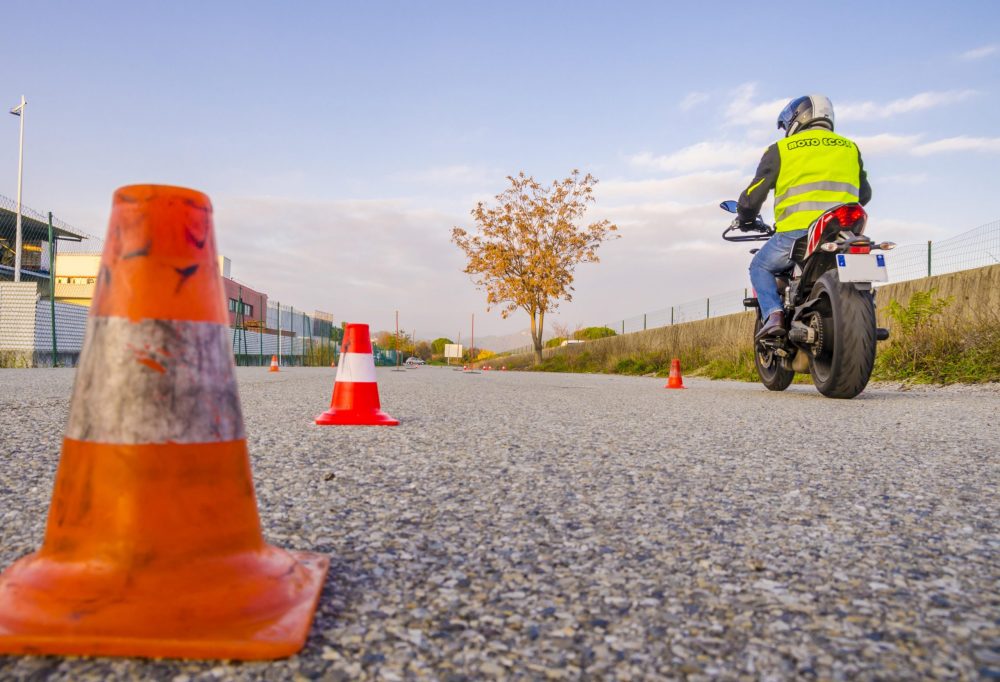 Getting your Full Licence Training
The day before your practical riding assessment, you need to do a safety check on your bike and make sure it's in good condition. You have to carry out this routine service every six months or 12,000 miles (19,312 kilometres).
The practical test itself will be split into two parts; an off-road test and an on-road test.
Module one – Motorcycle test.
For the off-road test, you will need to ride the bike around a designated course and show how it handles corners, braking roundabouts, junctions with traffic lights and one-way streets.
There is an official list of manoeuvres which are:
Wheeling the moped or motorcycle and using the stand
Riding a slalom and figure of 8
A slow ride
A U-turn
Cornering and a controlled stop
Cornering and an emergency stop
Cornering and hazard avoidance
Module two – Road Test.
Your examiner will often use a headset in order to detail a route and pass on instructions. These instructions may include manoeuvres that you need to complete. For example, he may tell you to pull up on the side of the road when it is safe to do so. The routes are different for each test so if you fail your first attempt, don't expect the route to be the same the next time around.
During model two you may be asked to:
Perform a normal stop
An angled start (Pulling out safely from behind a parked vehicle)
A hill start
Try to remain calm when sitting your motorcycle test
Getting a motorbike licence is not as difficult as some people think, but it's also important that you don't take it to heart if it doesn't go your way the first time around. Try to remember that sometimes, people can just, unfortunately, make mistakes and don't take such failure to heart.
Want to see how I go on with my motorcycle licence test? Click the play button below to watch my YouTube video.