Electric cars have become so commonplace that most people no longer take a second glance when they pass. However, electric motorcycles are the latest break-through in the biking industry.
In early 2019, decent electric bikes were virtually non-existent. However, due to the rapid expansion in technology, as well as investment from third-party sources such as Government grants, we see a steady increase in the uptake of the electric bikes.
The English Electric Motor Co. is the UK's greatest dealer in electric bikes, stocking virtually every brand imaginable. Rev and Go headed over to their rugged farm-based garage to investigate the new Zero SRF to see what all the fuss is about. After spending two days with the English Electric Motor Co, needless to say, at the very least we were inspired by how far technology has come along.
The Zero SR/F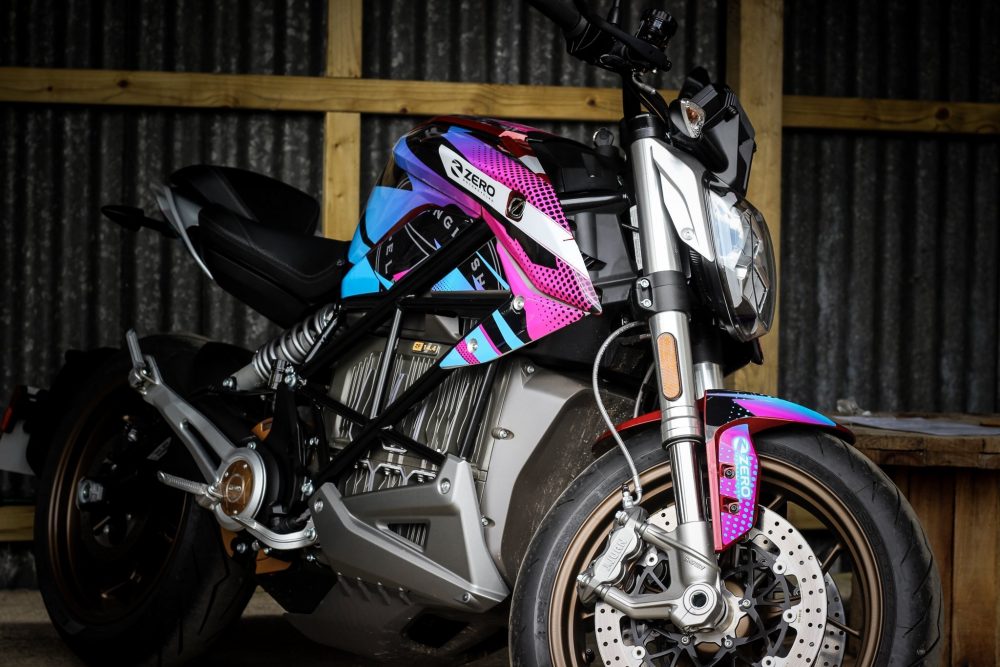 The Zero SR/F has been dubbed the most innovative, smartest and powerful motorcycle Zero has ever created. There are currently three versions available, the ZF 7.2, the ZF 13.0 and the ZF 13.0 with a power tank.
Having ridden the motorcycle, it's not hard to see why.
How far can the Zero SR/F go on a single charge?
The bikes Lithium-ion battery holds a whopping 12.6kWh of energy. What this translates to is a staggering 100 miles for the economic rider. However, this is dependent on riding more economically and not full throttle. For a more adventurous ride, you can probably expect 50-60 miles. For those who enjoy bursts of excitement, you could expect to see roughly 70-80 miles.
What kind of charge time can I expect with this electric motorcycle?
The length of the charging time is dependant on the source it's plugged into. Charging from a three-pin UK household socket will give you a four-hour charge time from 0 to 95%. The final 5% takes an additional 30 minutes. However, it helps to protect the life of the battery. It is possible to half the charge time by upgrading to the premium SR/F, which comes with a more powerful onboard charger. However, this will require a three-phase electricity supply. With a fully upgraded battery, you can decrease the charge time to an impressive 40 minutes. For those who enjoy frequent stops, it's no more time than a coffee and a chat.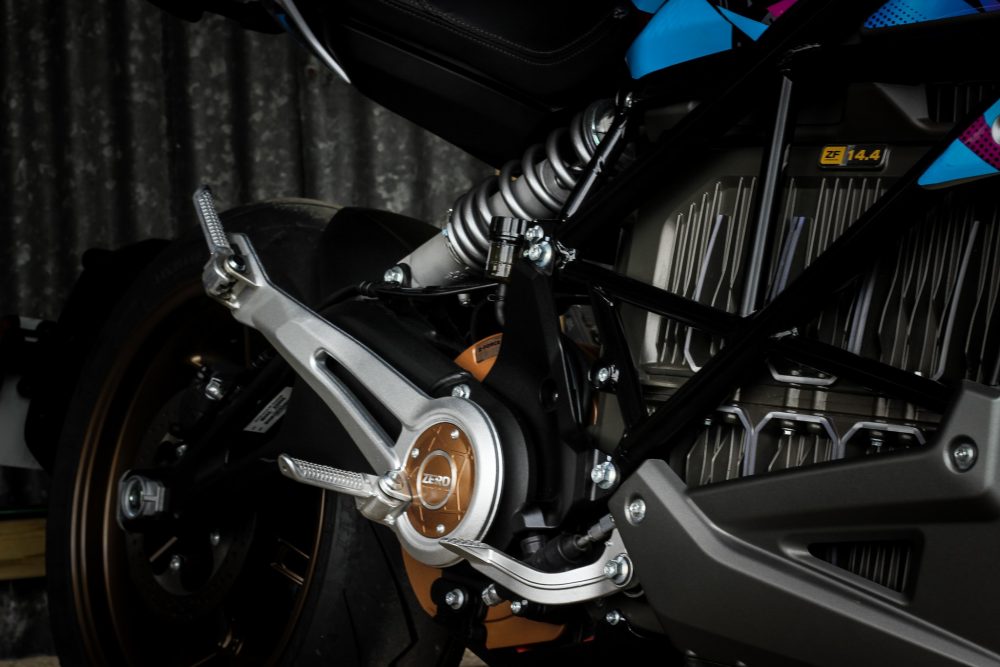 How fast does the motorcycle go?
The electric bike itself is underestimated. Its power performance is phenomenal. Its peak figures sit comfortably at 110bhp. Giving out a staggering 190lb-ft of torque with a combination of instant power delivery means the rider is given one crazy adrenaline-inducing experience. Switching the mode to Sports allows you to hit an estimated top speed of 125mph. Whilst many bikes have a better top speed, very few can deliver the same enthusiastic level of continuous acceleration.
How do you park it in gear?
Not many people question this but imagine you arrive at an incline, and you need to park your motorcycle in gear. However, the electric bike has no gearbox or clutch. This left a few of our writers at Rev and Go pondering over it. The English Electric Motor Co stated that it is possible to park the motorcycle on a hill with the use of an after-market clip which attaches itself to the brake. Alternatively, like may bikers, you could just put your front wheel turned into the curb.
What are the running costs of the Zero SR/F?
The running costs of the actual ae extremely low. It helps to justify its hefty price tag. While there are more and more public charging ports that are free, even if these aren't available, the cost of a home charge will set you back between £1 and £2 per full charge. This is a very enticing selling point for those looking for a cheaper commute. The lack of maintenance is additionally a massive bonus. With a single moving part, which is surrounded by bearings, there isn't really much that needs to be done to the bike. Say goodbye to all those additional maintenance costs.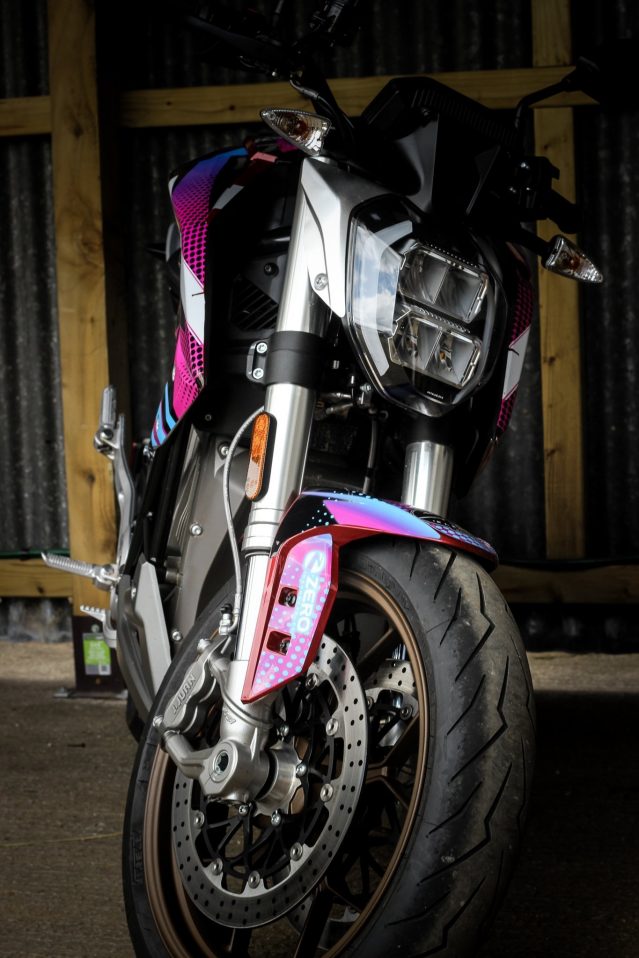 Does the bike make a sound?
It does actually. There's a massive misconception that electric motorcycles are completely silent and this usually comes along with safety concerns. For slow speeds, this is the case. The bike is relatively silent when travelling through smaller towns and hamlets. However, on the open roads with full throttle, the bike begins to sing. The noise resembles very closely to a TIE fighter from Star Wars, and boy does it echo throughout the country roads.
How much does the Zero SR/F cost?
The standard model of the SR/F will set you back at a price range of £17,990 whilst the premium model comes in over £20k. However, it's worth noting that the machine qualifies for a government grant of £1,500 to offset the purchase price. In addition to this, the bike is exempt from road tax as well. Combine this with the extinction of maintenance costs and cheap charging, the bike begins to look a lot more affordable long term.
What do Rev and Go Readers think about electric bikes?
Kerry Ann Johnson
I wouldn't ride one. Personally, because they won't have any noise compared to a proper bike. Takes the biking experience away. Might as well just get an electric push bike! Secondly, cars wouldn't be able to hear you filtering which would put you in danger. Noisey pipes save lives.

Victoria Palframan

I'm all for electric vehicles, and I'd happily give one a go. I bet they are great for commuting, but I do wonder if the experience would be the same without the sound and smell of a bike.

I have this vision in my head that in the future an old lady will take the grandkids out to the garage to show them her old Yami Fazer, she'll put a little bit of petrol in the tank and go.. "are you ready to hear what bikes back in my day used to sound like?" She'll try and start it, and it'll fail the first couple of times, but then it'll come to life, and they'll be in awe at the sound having only heard quiet vehicles their whole lives.

Samantha Duncan
I had a go on one last weekend at the MK bike show. It was such good fun. Wouldn't want one for everyday use. However, the torque was amazing and the bike I was on was only equivalent to a 125 cc.

Åsa Öhqvist

I had the opportunity to test ride a zero at the international WIMA rally in Finland last year. I thought it was absolutely amazing, I loved the power and the silence. For me the bike was too small, I'm 177 with long legs. I wouldn't buy one atm because I'm concerned about the insurance cost and risk of theft. I'm certainly up for getting one in the future.

Anna Cooper

I'd give it a go! Would want some reassurance that the battery would hold up to my commute (~20 miles each way) for a good few years, which I'm not sure about yet. Sure, when they're new, no problem – in 5 years time?? Also, I have some concerns about the environmental credentials of the actual batteries – some nasty chemicals in batteries…

Jacqueline Sable

Well, Germany and Ireland have said they will not sell petrol engines after 2030 and I guess there will be more countries to follow. So I imagine more companies will be shifting their development priorities in favour of electric vehicles. So like them or not, they are the future of motorcycling, I personally think it's quite an exciting time to see the new designs and technology.