Unlimited passion has released a new range of motorcycle cleaning products set to wash away the competition. The company has recently released some products to keep your machine looking its best and we promise, you won't be disappointed. Saffy Sprocket decided to try and use Unlimited Passion as our regular motorcycle cleaner, and here is what we found.
Unlimited Passion RED EFFECT wheel cleaner
What is it?
This is the go-to product when it comes to wheel cleaning. With summertime just around the corner, why wait to get your rims looking like new? Now we know how it is, wheel cleaning can take hours for you to get the desired sheen. Even when you do finally get it looking spotless, you're only a 20-minute ride away from where you first started.
However, with the Red Effect, this process can take just a matter of minutes. The best part? This cleaner does not come with any of the harsh chemicals that will damage your rims. After months of careful planning, from concept to reality, Unlimited Passion has certainly delivered on this product.
Red Effect is both a detergent that removes specks of dirt, as well as a fallout remover that is the demise of brake deposits. RED EFFECT does it all!
How do you use it?
Spray the red effect onto your wheels and brakes. Afterwards, all you need to do is wait a couple of minutes. You get to enjoy watching the solution turn red against your dirt and grime. This happens as it lifts contaminants from the surface. Then, all you need to do is rinse them off. After this, you give them a gentle buff with a microfibre cloth and admire your 10 minutes hard work.
The most important part of the spray is it's neutral pH level. It's non-caustic and non-acidic, so this means that it's guaranteed not to damage your wheels.  Red effect is not only practical but safe for all wheel types. From polished alloy to aluminium and anodised surfaces.
The Price
So how much will Unlimited Passion's Red effect motorcycle spray set me back? Well, it's currently retailing for £16.30 on Amazon. Alternatively, you can buy direct from Unlimited Passion.
Our thoughts?
Red Effect performed flawlessly. When it comes to cleaning the Yamaha MT-10's fluoro yellow wheels, we knew from experience that it's no easy task. However, Ultimate Passion's red effect cut through the dirt like a samurai sword in battle. Not only did it clean up dirt efficiently, but it was equally fun to use. The colourful reaction truly makes you realise how hard the product is working. Whether you're a lazy day bike cleaner or a polished chrome fanatic, this is the product you need to invest it.
Unlimited Passion's Degrease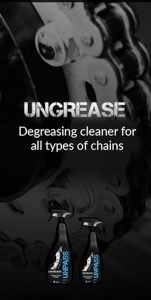 What is it?
Unlimited passion has created a degreaser that actually decreases. What makes this product even better is the fact that it's safe on all chain components. We've all been there, haven't we? We've tried a degreaser, and yet even after blood, sweat and tears, we're still left with the greasy residue over our machines.
However, that all changed with Unlimited Passion. Their degreaser is a must-own product. You can guarantee that the product will not destroy or alter the rubber and elastomers. It is formulated from powerful and synergistically active ingredients. This means it leaves your metal, plastic, and rubber seals free from dirt.
The critical thing to note here is that Ungrease can be used on all types of chains (including those with O-rings) and all kinds of motorcycles (road, off-road, or even your quad). You can now clean all of your mean machines together. Gone are the days when you need to change the product, or even worry about where the product is dripping onto.
The Price
Unlimited Passion even has an offer online currently for 2x UNGREASE 750ml bottles with free standard delivery for just £15.99 or a single container for £9.99. The duo purchase is an insane bargain so don't wait, get all the grease off before a couple of days of sunshine disappear for another year.
Our thoughts?
We can honestly say that even on the first application, this stuff really is brilliant. Unlimited Passion is worth the money and it really will get the job done. We used this to decrease the SV650 motorcycle and make the wheel rims look new. The product can be used all over your motorcycle. It's not only safe, but it won't deteriorate rubber. It's a huge thumbs up from Me.
Unlimited Passions' Addict
What is it?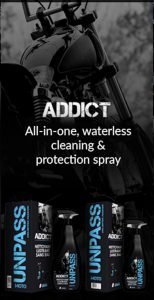 Ultimate Passion's Addict is a waterless motorcycle cleaner. The product is the result of four years of trying, testing and going back to the drawing board. Ultimate Passion state that the Addict is a product that's easy, effective, protective and preventative.
Addict cleans and shines your bike in a matter of minutes. It effectively removes stubborn dirt, grease and those pesky bugs. By depositing a water repellent and antistatic film, Addict protects your bike from top to toe. Due to this film, it is also a preventative, as  it stops dirt from sticking to the surfaces
How is it used?
Unlimited Passion developed an easy 1, 2, 3, 4 system to help you use their product.
Spray onto the surface and wait a few seconds
Wipe over with the short side of the included microfibre cloth
Buff with the long side of the included microfibre cloth to finish
Take a picture and share it with everyone to make them jealous of your beautiful machine!
The price?
The addict spray bottle will set you back by £19.99. However, I promise that you won't be disappointed. Again, it comes with a free microfiber cloth to help you buff up afterwards. Is it worth it? Absolutely.
Our thoughts?
We found that the Addict was especially useful when the bike has been out on a short ride. It doesn't need a full wash and buff but there are certain areas where flys and dirt splashed on the bike. The Addict is wet enough to clean but equally adds a little bit of polish. It's certainly something worth packing for short trips away.
Ultimate Passion's Thunderbolt Wipes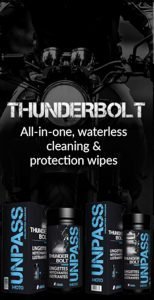 The next product up for discussion is the THUNDERBOLT wipes. They have a lot to live up to with a name like that! These wipes are a complete all-in-one cleaning and protection system for ANY automobiles. They are more than just a waterless wash and wax. They offer complete cleaning and protection for your bike, car, boat, scooter, or any other vehicle that needs a bit of TLC, though I wouldn't like to hazard a guess at how many it might take to clean a truck! Whether it's internal or external that you are looking to clean THUNDERBOLT seems to be THE product. THUNDERBOLT deposits a polymer protective coating that also makes cleaning next time easier too! This protective coat is also heat resistant, meaning it will not become at all tacky or go dull like a wax can.
What can thunderbolt be used for?
It can be used for pretty much anything, and if like me, you would rather spend your time on the road than cleaning, they indeed allow you to do so. They can remove insect debris, get rid of tar spots, clean white-walled tyres, even degrease swingarms and chains, and a lot more!
Don't waste time filling and emptying buckets, grab a wipe and go!
Are they as easy as they sound?
Well, it seems as though there is a technique to using the wipes, and that unique technique is described below.
Take a thunderbolt cloth from the tub, fold it in half and put it flat on the palm of your hand.
Caress the surface without rubbing. When the surface becomes slightly slippery, you can begin to increase the pressure if needed somewhat.
To prevent swirling, always proceed by a small area at a time and move in slight circles
The THUNDERBOLT cloth traps the unwanted particles while cleaning and applies a film to the surface at the same time to protect. How original can one little fabric be?
Follow with the THUNDERBOLT technical microfibre, making a swift, light circular movement without pressing. This creates the friction needed to bond the protective coat to the surface.
I mentioned earlier being worried about how many wipes you need to clean a large vehicle. It turns out to be a lot less than I expected, the average product use is quite low, so it seems that a tub of 80 wipes will last a lifetime
Scooter: 1-2 wipes
Motorcycle: 2-3 wipes
Medium car: 5-6 wipes
The Price?
In our opinion, the £32.99 price tag seems very reasonable for the amount of cleaning contained in the tub.
How does the product hold up?
Our first impression was good. When you're ordering these wipes online, it's not easy to comprehend how big the packet is. However, when it does finally arrive in the post, the tub is substantial. The wipes themselves, are massive and it even includes a microfibre cloth for buffing up. You won't require more than two wipes to clean your bike.
The hardest thing we found to clean on the Yamaha MT-10 was the dried up bugs. However, a single wipe took their crusty bodies right off the windshield in no time. After a quick buff, it left the fairing gleaming and the lights sparkling.
With 80 wipes in a packet, there is more than enough for 40 dirty weekends in the mud. That's almost an entire year in a single tub. That's certainly what we would regard as value for money.
Ultimate Passion's Ultimate
What is it?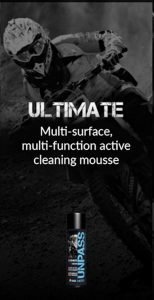 Ultimate is a unique product, and it can only be compared to what can be described as 'snow foam'. The foam can lift stubborn deposits away from the surface of your machine in no time.
It has two different ways you can use it. You can either wipe away the foam with a soft cloth and then buff it to a natural finish. Alternatively, you can rinse and buff. We think that the fact the product has multiple ways to use it is utterly fantastic.
Due to the handy spray can, the ULTIMATE is ideally suited to those hard to reach places. Just spray the cleaning foam over the affected area, wait a few seconds, and wipe away with a lint-free cloth, then buff.
The foam is easy to apply yo hard to reach areas, meaning that fighting with engine fins is a thing of the past. The foam expands merely in the voids to lift dirt and is then rinsed away.
ULTIMATE is without a doubt one of the most magical products of the range. It deposits a lovely non-greasy antistatic coating which keeps surfaces cleaner for longer. The silicone-free foam is also non-corrosive does not degrade varnishes or plastics!
Grab a 650ml aerosol now for as little as £13.99. The product to do it all has the lowest price tag, why not give it a go for all your cleaning needs?