There are a lot of different Motorbike vloggers and Biker YouTube channels which in their own right are fantastic sources of entertainment. Since it would be a mammoth task to include absolutely them all, I have chosen a selection of some of the channels which consider worthwhile subscribing to. Whether you're into custom builders, moto-vloggers, organisations or races, we have included something for every audience.
Motorcycle Vlogging Channels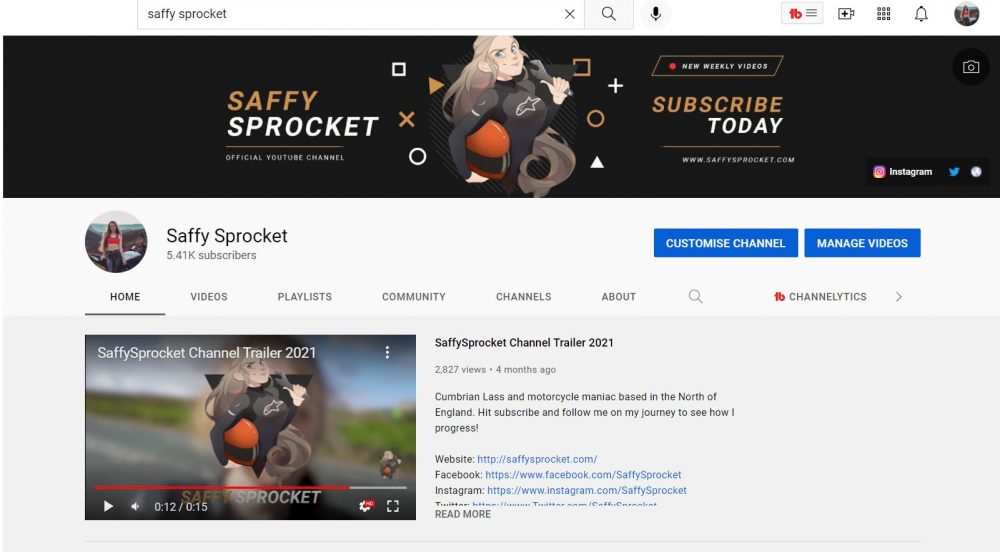 Saffy Sprocket is an eccentric motorcycle maniac based in the North of England, Saffy Sprocket holds just under 10,000 subscribers on Youtube. Posting week at 6 pm, Saffy posts miniature motorcycle documentary-style motorcycle videos that focus on product reviews, how-tos as well as must-visit motorcycle roads in the UK. She occasionally posts casual vlog videos of her day-to-day motorcycle trips. Her videos often encompass high-quality professionally shot footage, dramatic landscapes and well-presented topic ideas – what's not to love about that? So if you love uniquely shot motorcycle vlogs, make sure to check out her channel.
Some of Saffy Sprockets videos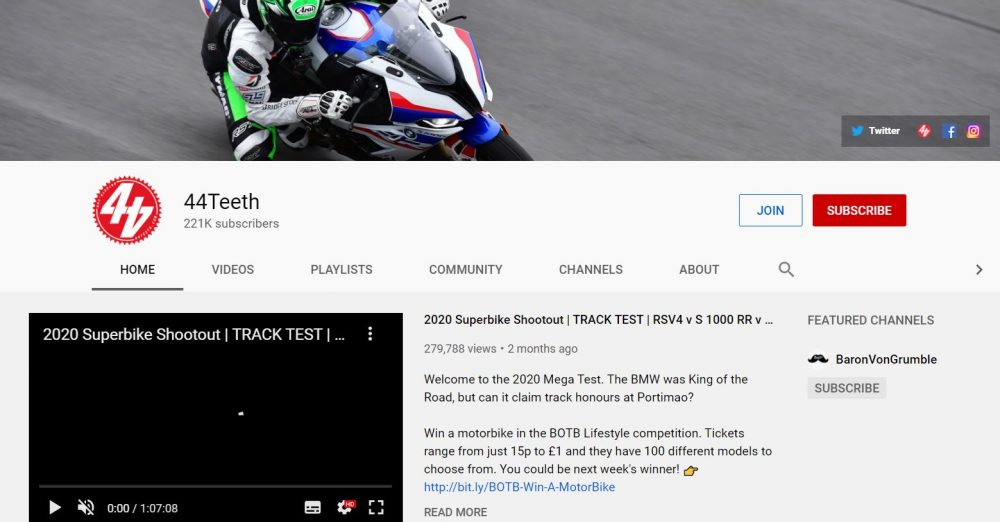 44TEETH is very similar to BaronVonGrumble. It is brought to you by BaronVonGrumble and Alastair Fagan. This channel is known for creating content such as the Budget Bike Battles that are always entertaining. This is a newer channel as it was launched in 2014 but now has more almost 200k subscribers. This is a page to look at if you enjoy the content from BaronVonGrumble.
Now unless you've been living under a rock for the last 24 months, then chances are you've heard of TeaPotOne and his insane adventures. After riding a Superbike 74,000 miles solo around the world, through 54 countries in 442 days, he now produces weekly vids every Tuesday at 8 pm GMT – usually something to do with motorbikes, and always reinforcing his mantra of "Live Your Life!'. His channel is certainly worth checking out.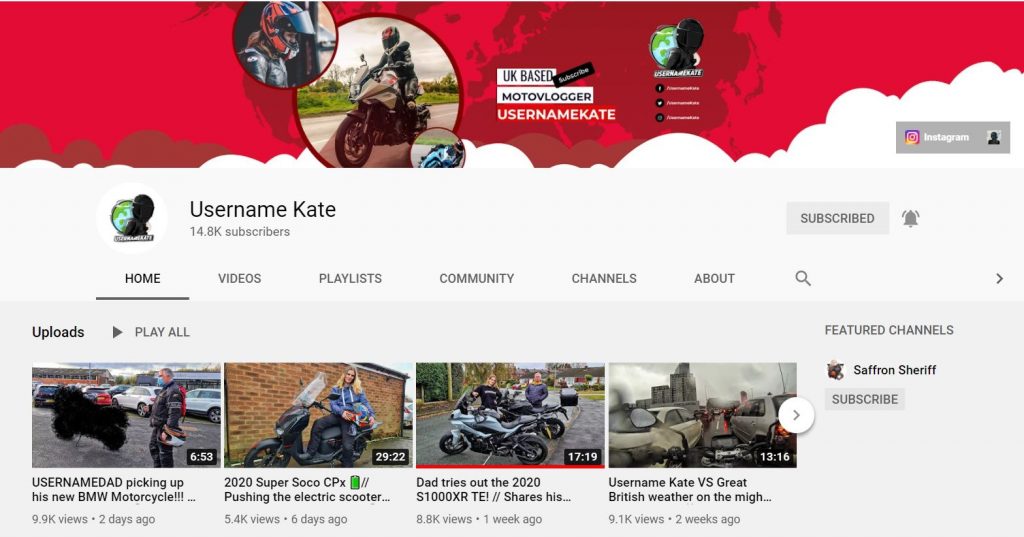 Kate might be new to Youtuber, but she's no newbie to bikes. After hitting a whopping 15,000 subscribers in a single year, with over 11 years of motorbike experience, Kate is becoming a rising Youtube Sensation. Kate's content loosely follows her life working in bike sales and encompasses a range of bike test rides, product reviews and adventures with her father. Always looking for that next adventure, her channel is certainly worth checking out.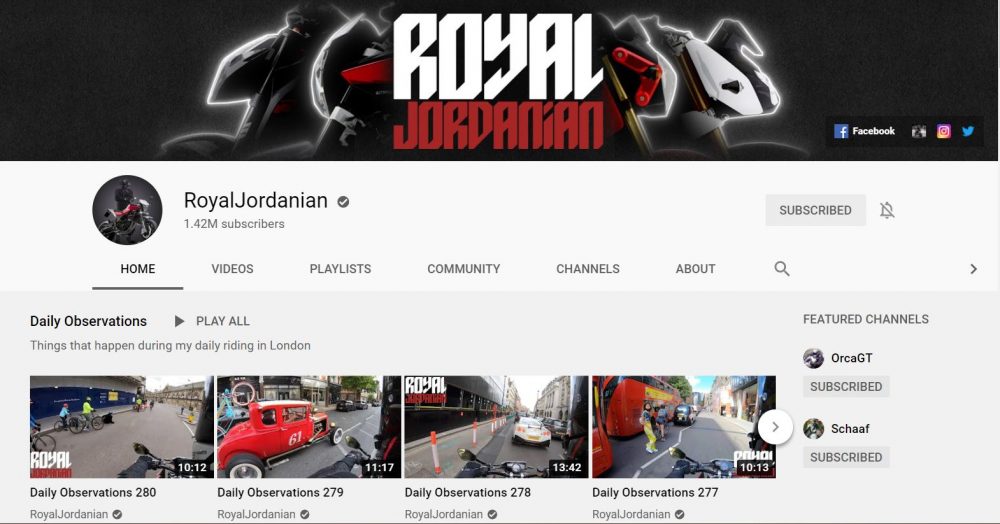 The slogan for the website associated with this channel is "riding a bike is my relief, my medicine, in this crazy world…" many motorcyclists feel this way which gives a relatable feeling to the creator and his videos which viewers enjoy. The website is RoyalJordanianwebsite. RoyalJordanian is very popular; the YouTube channel has more than a million subscribers and more than a quarter of a billion views.
This channel was set up back in 2006 and has grown substantially since. More than a thousand videos have before been uploaded to the channel, and 39 of those videos have over a million views each which are noteworthy. Around seven videos are uploaded every month to the track. The most popular videos include footage of different motorcycles being ridden around the London area in the UK and they are titled "Daily Observations". There are more than 260 of these types of videos, so there is a lot to look at. Aside from these, there are also videos of motorcycle reviews and looking at custom motorcycles as well as many more.
Since launching in December 2013 On Yer Bike has more than 33,000 subscribers as well as more than 4.7million views. The most exciting fact about this channel is the content, it' not your average motorcycle vlogger channel as they feature motorcycles that are not the "norm". Pristine classics are featured as well as dirty off-road mopeds which is quite the contrast. The hosts state that they aim to be alternative in what they post about on their channel. They aim to upload two videos a week to their YouTube channel. This channel provides the viewer with a behind-the-scenes look into what happens at the Doghouse Customs garage featuring motorcycle updates and testing. Episodes can be as long as 50 minutes, but they do give a detailed overview making the longer viewing time worthwhile. They also have merchandise available on their channels website, so if you're into that, you should check that out as there is plenty of choices.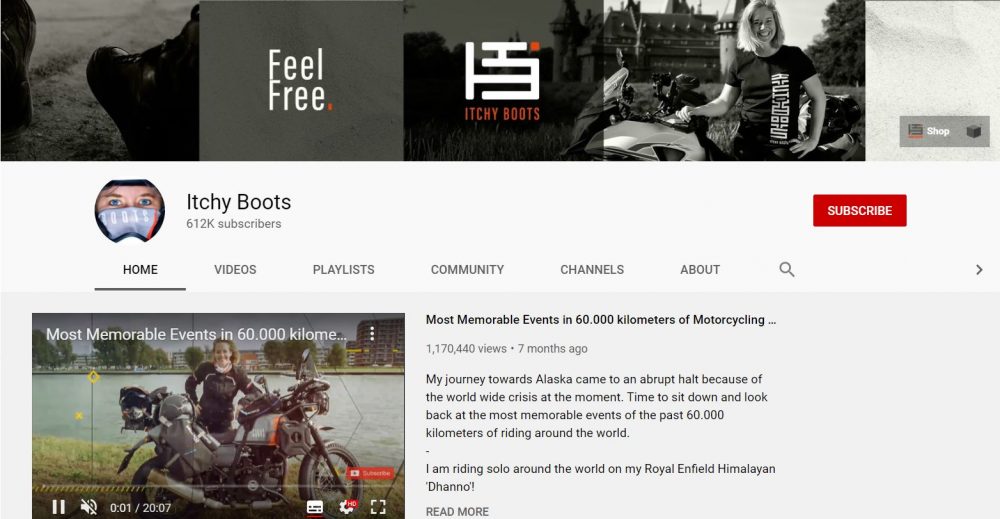 This YouTube channel is all about the love for adventure. Itchy Boots started this channel back in November 2018. She took the impulsive decision to leave her job and sell everything she owned to follow her passion for motorcycles and crazy adventures full time. Itchy Boots has more than 400,000 subscribers since the channel was launched.  Her love of motorcycles started in 2015 when she passed her licence and bought her first motorcycle. Using this to gain experience and many miles under her belt she decided to take the plunge and sell everything including the bike to buy a new one and take on this adventure solo heading from India to Malaysia.  To date Itchy Boots has completed two series of her travels, you can watch both of these on her channel right now. She also uploads videos giving tips and tutorials on motorcycle maintenance while travelling through different countries. This channel is inspiring as it shows the real-life adventures of Noraly since she decided to take the plunge in this solo adventure. We have featured a variety of Youtube and Vlogger channels in this article to try and showcase all the different insights into motorcycling. All of them are noteworthy on their own merits, so there is much choice for pages and channels to follow.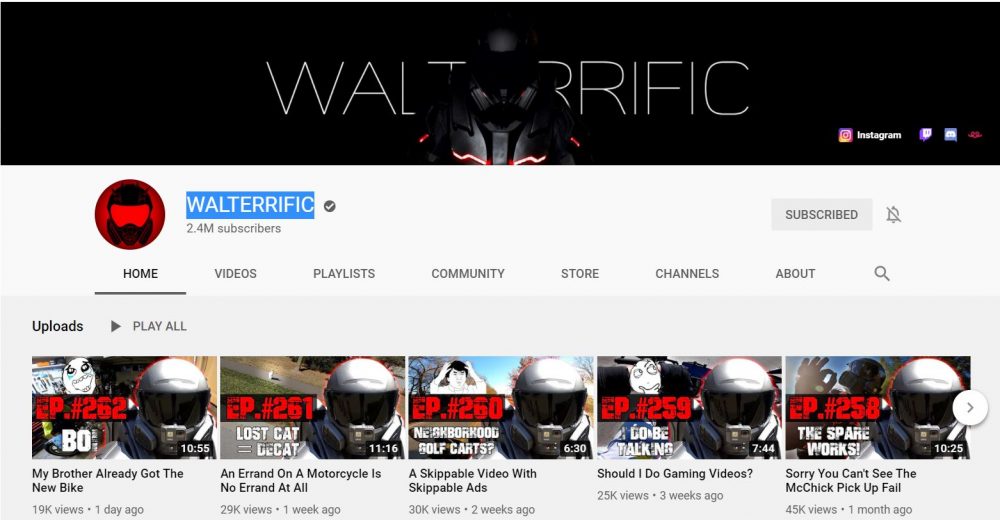 Some have argued that Walteriffic is the current king of the biker blogger world. Unlike other motorcycle bloggers, he doesn't tend to vlog about motorcycles themselves, but about his fun adventures on them.
Now the guy has some series bragging rights clocking in 2.4 million Youtube Subscribers. After checking out his youtube videos, it's hard to understand why he's so popular. From days out to adventures to crashes,  Walteriffics's videos are always something different. He's now moved from Kansas to Maryland, so watch out Baltimore!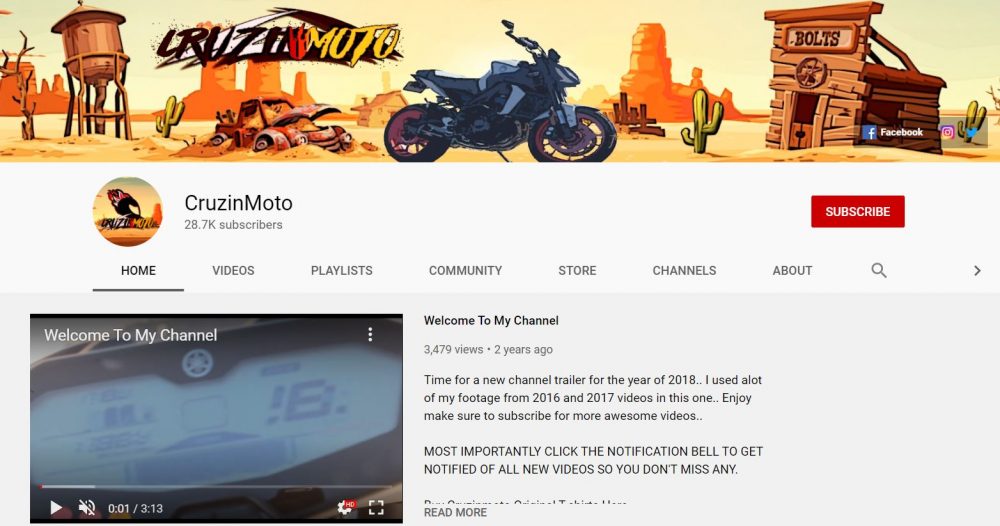 Coming in at just under 30,000 subscribers, CruzinMoto is a fairly average-sized moto vlogger and is certainly worth a mention or two. However, he continues to create and post great content including riding through the hallways of MMI (motorcycle mechanics institute), catching his stepson sluffing/playing hooky, and much more. So make sure to check out his channel.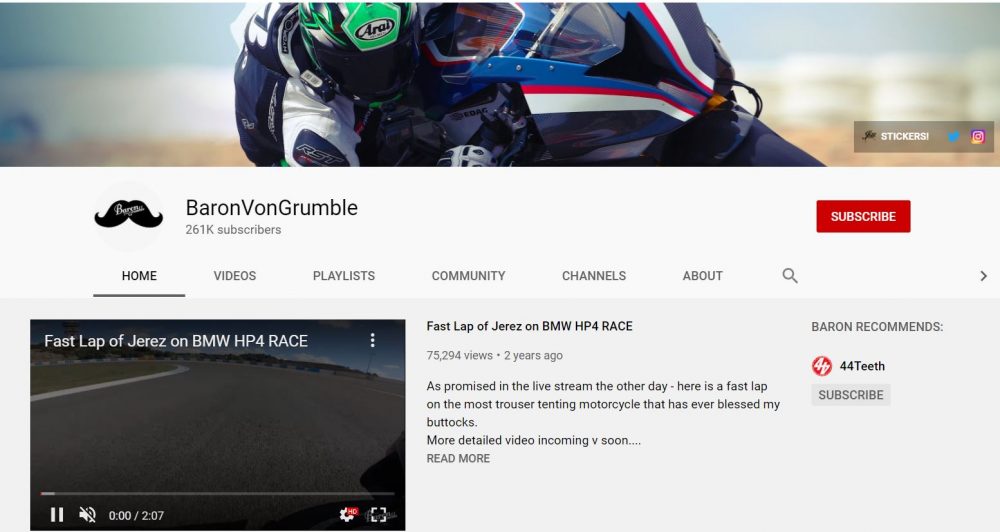 Since starting his channel in December 2011, BaronVonGrumble has a quarter of a million subscribers and over 39,500,000 views. As one of the UK'sUK's most successful motorcycle vloggers, he updates his channel monthly ensuring that there is at least one fresh video per month. There is a wide range in the videos that are uploaded from the point of view track sessions to tackling motorcycle theft and bike reviews. Some videos feature him touring the world, which is also a fascinating topic that viewers can enjoy watching.  However, there is extensive use of foul language in all of the videos as VonGrumble likes to swear. It is clear to see that the host loves riding his motorcycle and therefore gives a lovely insight into this. He does also upload videos that feature cars so viewers who have an interest in high-speed vehicles will enjoy this channel.  Not only is he popular on YouTube, but he also has a substantial social media following as well, more than 23,000 followers on Twitter and Facebook. He uses these platforms to share information about upcoming videos for his YouTube channel as well as his thoughts and opinions on the latest motorcycle news.
Racing related Motorcycle Channels
11. Red Bull Motorsports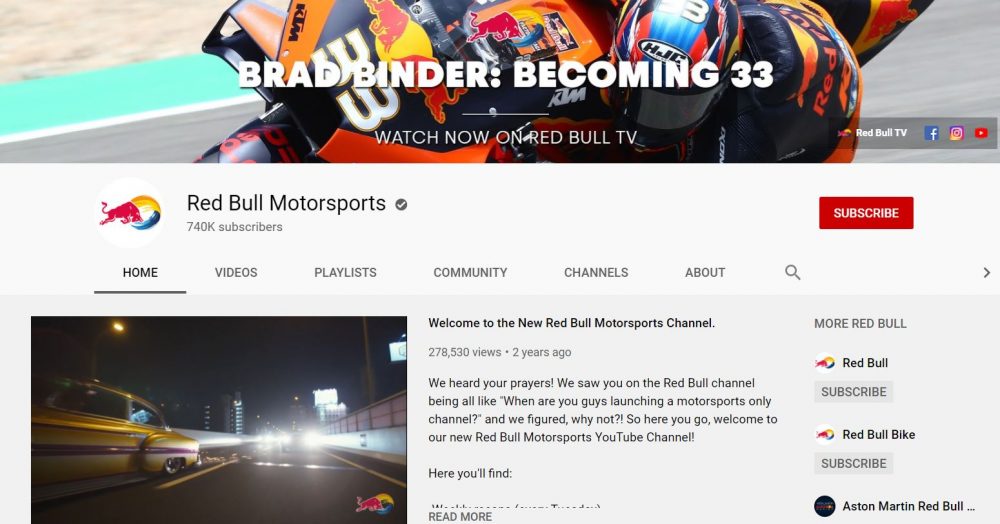 With over 410,000 subscribers and even more views at 172,000,000, the Red Bull Motorsports is bursting with the footage. Their videos cover everything from MotoGP and Motocross to Drift, Rally and much more. Though these are not motorcycle-specific events, they are interesting to watch and listen to. Furthermore, you will also find events that you may not have heard of before, such as the Dakar Rally or the Red Bull Romaniacs.
Dougie Lampkin features some incredible POV shots and camera angles that showcase the nifty tricks and stunts from the best in the business. New videos on daily uploads mean you will never have anything new to watchkeeping you entertained with fresh videos on your feed. Having such a variety also means you will always have something different to look at rather than the same event every time. Additionally, the community section has regular updates to ensure that you are up to date with everything ongoing as well as what to look out for.
11. TT Races Official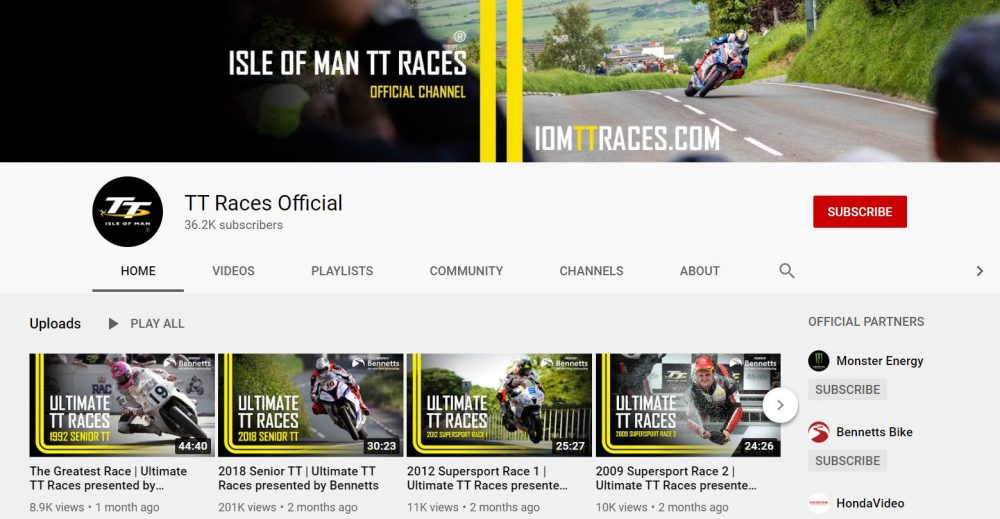 It goes without saying that the TT Races Official Youtube is the place to be for everything TT Races related. Despite being launched not so long ago in Mid September 2018 the channel already has over 14,000 subscribers and over 2,200,000 views which speaks volumes on its own. Upon visiting this channel, you will have access to lots of exclusive interviews with your most loved TT racers both past and present. Highlights of every single one of the 2018 and 2019 TT races all featuring dramatic camera footage and commentary throughout. Regular updates as well as peak times in the run-up to the annual IOMTT and classic TT you won't miss a single thing. If the TT is your go-to racing event, then this channel is the perfect one for you!
12. MotoGP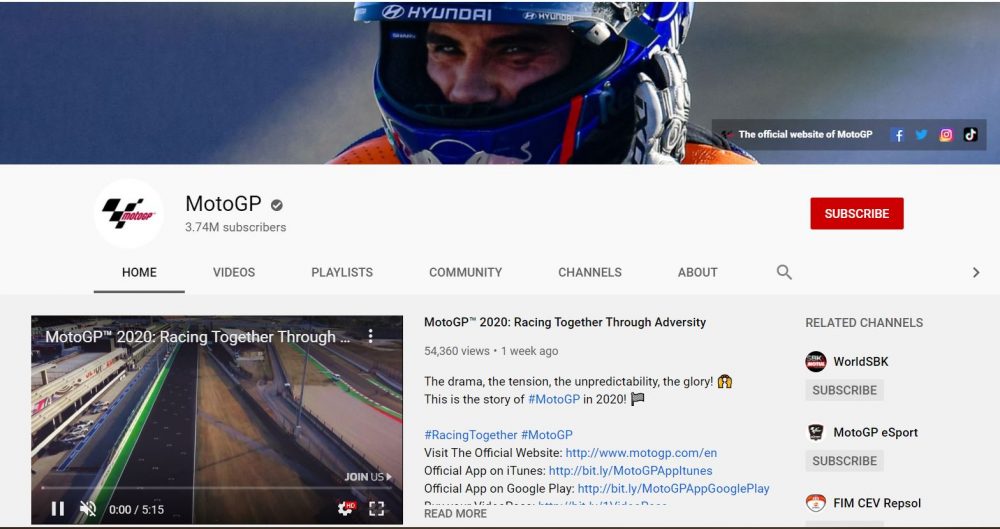 With a phenomenal 2,300,000 subscribers and more than 808,000,000 views since the launch in 2005, it is clear that this channel is arguably the most popular racing channel of its kind. They are featuring all the highlights of the latest MotoGP races from all around the world. These highlights are not just general highlights they feature so much more. Footage of the team's performance and focusing in on the behind the scenes action gives you a better insight to the sport itself. MotoGP is so much more than just racers racing around a track for a trophy. Interviews with your most loved racers are also a feature on this page, including the likes of Valentino Rossi and Marc Marquez. New videos uploaded most days of the week always give you fresh content to watch and enjoy allowing you closer access to the world of racing.
Informative Motorcycle channels
13. Motorcycle News
Motorcycle News is most commonly known as the largest print and online motorcycle publication globally. The company also has a prominent motorcycle YouTube channel that was launched in 2006 and had more than 220,000 subscribers and 215,000,000 views. On average, six videos are uploaded monthly to the channel, these feature motorcycle reviews, comparing models and new motorcycle releases. Exclusive interviews with famous racers such as John McGuinness also feature on this channel.
A significant part of this channel is that they have videos full of tips and advice for both new and experienced motorcyclists. One example of such a video is the "How to complete your CBT". Motorcycle news run events around the country such as the London Motorcycle Show, the film throughout the day and then create a video from the footage to upload to the channel. You may see yourself in such a video if you happen to attend such an event. 
14. RoadCraft Nottingham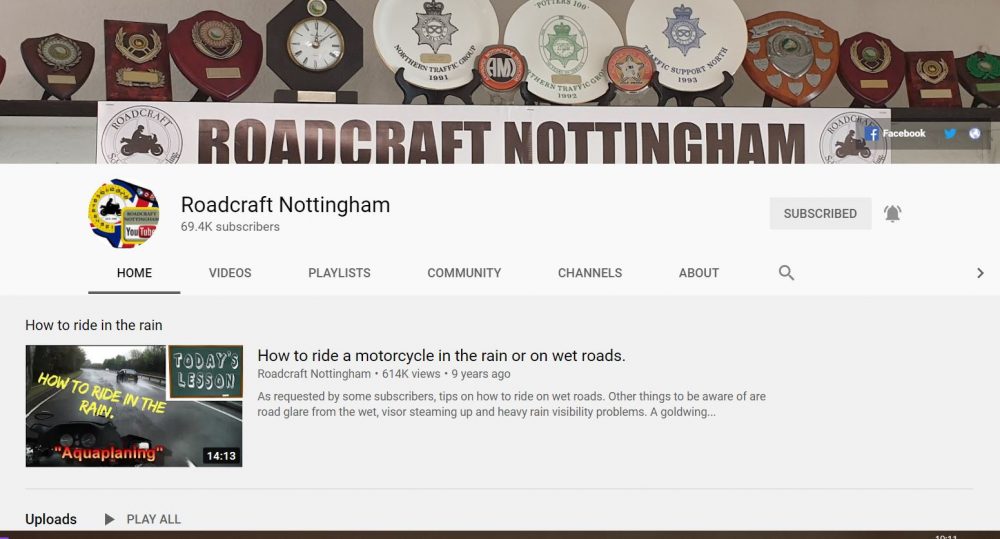 Run by Russ, a fully qualified motorcycle instructor who has won several awards for his teaching, he has over 34 years experience in his field. More than 67,000 subscribers and more than 15,500,000 views since he made his channel in July 2010. On average, he uploads one or two videos per month; they primarily focus on teaching the viewer ways in which they can improve their riding and minimise the risk of riding their motorcycle on the road.
Using "point of view riding footage with the voice of the instructor over the top to inform the viewer of what is happening in the footage, the voice-over also tells the viewer what to and what not to do in each scenario. Aside from this style of the video, he also uploads reviews such as gadget reviews and alike. In addition, you can find Roadcraft Nottingham on Twitter and Facebook as well.
15. The Missenden Flyer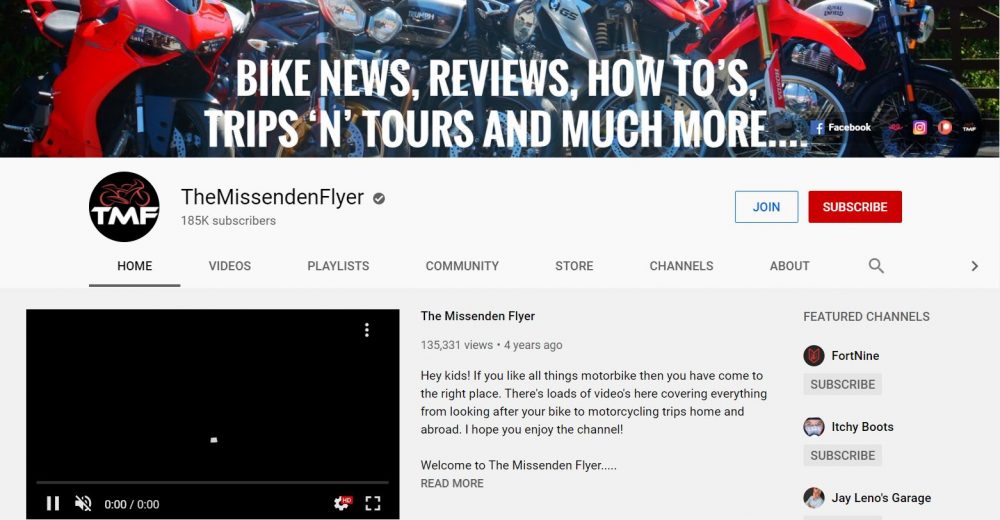 Often abbreviated to TMF this channel has more than 135,000 subscribers and 36,000,000 views. They upload a new video every Monday and Thursday with occasionally uploading more throughout the week.
This channel is good at showing the viewer a little bit of everything, including guidance on looking after your motorcycle as well as riding your bike abroad.  A significant aspect is their monthly upload videos that they call "Bike News Monthly" where the viewer sees a host talking them through all the latest news that that's been published that month.
Whether you're a new rider or an enthusiast with years of experience, some videos will pique everyone's interest. For example "Top 5 motorcycle cleaning products". If you're thinking about going to a bike meet and you're not sure what to expect you can watch videos from bike meets, an exclusive video from the British and the Classics Bike Meet at The Plough Casden you can get a taste of what they are like. Also, TMF runs a merchandise store where you can buy branded clothing and accessories online.
14. Twinthing Custom Motorcycles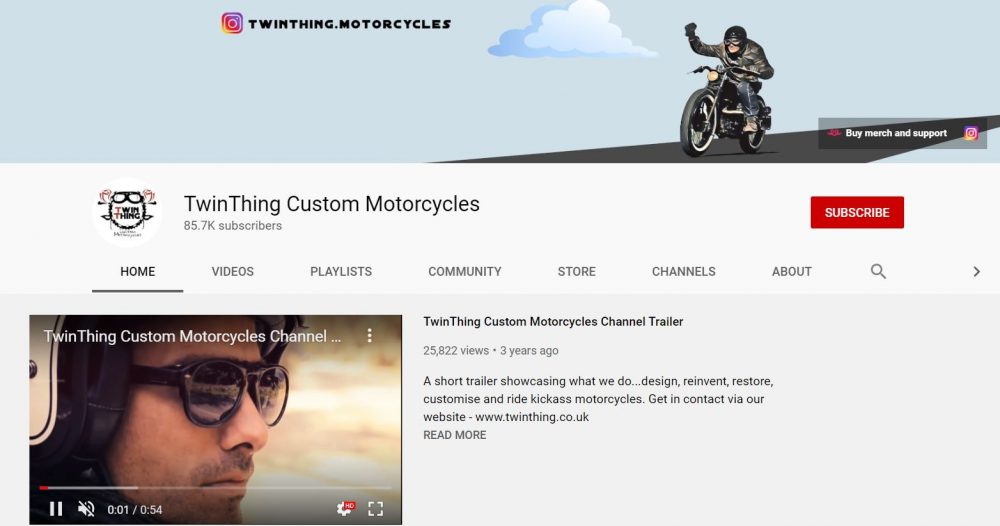 Their channel has more than 42,000 subscribers since they launched their YouTUbe channel back in April 2008. More than 6.8 million views and videos released they are arguably one of the UK'sUK's top custom motorcycle channels. On their channel, TCM communicates that they design, reinvent, restore, customise and ride "kickass motorcycles".
As they specifically deal with custom motorcycles, you see videos featuring some of the most eclectic and stunning custom motorcycles from exciting camera angles highlighting the unique aspects of each custom motorcycle. The most striking thing about these YouTubers is that all of their videos are short and straight to the point, each video is around 2 to 3 minutes in length which appeals to many people who like to search and watch what they want opposed to listening to much chat before the video gets to the point. By combining their two biggest passions of motorcycles and film its evident that these creators are exceptionally talented using both to create such an exciting and informative YouTube channel.