The one in a million: Triumph celebrates its milestone with a unique Tiger 900. The British Manufacturer has created just one of these limited-edition bikes to commemorate the occasion and its heading for auction.
This is an exclusive insight into Triumph Motorcycles' new commemorative model, the One in a Million: Triumph Celebrates One Tiger 900. It's been created as part of the company's celebrations of its 125th anniversary, and they're only making one – so you'll have to be quick!
The one of a kind Triumph Motorcycle
Triumph revealed a one-of-a-kind, silver-painted Tiger 900 Rally Pro with graphics at the company's Hinckley headquarters last week, and it will be on display at Motorcycle Live before being permanently housed at the Factory Visitor Experience.
A one-off Tiger 900 Rally Pro in silver with one-of-a-kind graphics was the millionth motorcycle to come off the assembly line.
The bike will be displayed at motorcycle live this December
The model will be on display at Triumph's stand at this year's Motorcycle Live event, and it will then be displayed in the 'Factory Visitor Experience' area next to Hinckley Cycle Works, which is a space created especially for the brand's 120th anniversary, which is expected to occur in 2022.
The Tiger remains one of Triumph's most popular bikes
The Tiger 900 was introduced in 2019, with a more aggressive appearance, new headlamps with full LED illumination and a new steel trellis frame, as well as an aluminium rear subframe, making it 5 kg lighter than the previous model.
It also has an improved liquid cooling system, Brembo Stylema brakes, enhanced ergonomics, a bigger 20-litre fuel tank, two riding modes, a colourful TFT instrument panel with assist and slipper clutch.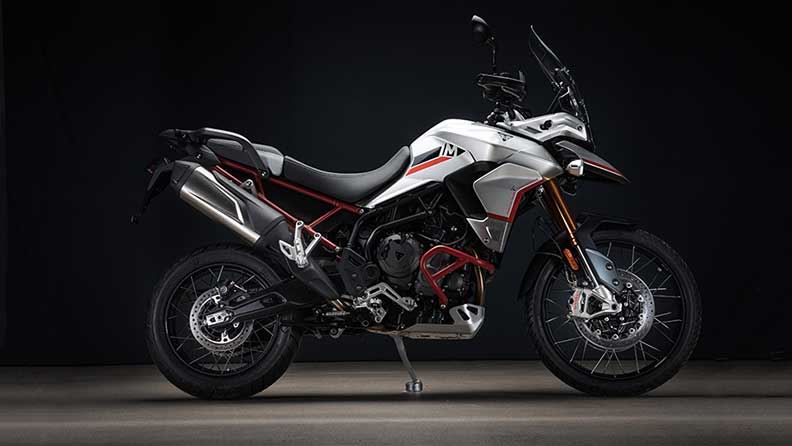 Triumph also recently celebrated its 120-year milestone
The Triumph brand began one of the world's most illustrious and thrilling brand histories when its first motorcycle went on sale to the public in April 1902; a tale that has continued with many legendary bikes, and has had a huge influence on the bike industry as we know it.
Triumph's modern era began in 1990 with a fresh new range of motorbikes created and produced in a cutting-edge factory in Hinckley, the first of its kind.
Triumph has become one of the world's most prominent and successful motorbike manufacturers, with a total production volume of more than 1.3 million motorcycles since its inception in 1975. Through an international network of over 700 dealers in 57 countries, Triumph has built and sold more bikes than it ever had before during the last three decades.
Despite recent difficulties, Triumph's enthusiasts all around the world, from owners to riders to fans and dealers, have made the previous year the most successful ever, with more than 75,000 vehicles registered worldwide and £650 million in sales.
Triumph is the pinnacle of British design and engineering, with a range of world-beating motorcycles across a number of categories, all of which deliver Triumph's renowned reputation for class-leading handling, finish, and attention to detail.
Triumph has five factories across the world, three of which are managed and led by the headquarters in Hinckley, Leicestershire, where every Triumph is designed, prototyped, and tested by their in-house team.
The most recent addition to Hinckley's impressive infrastructure is an all-new UK assembly plant that was constructed to enhance Triumph's global manufacturing flexibility and complement the existing multi-million-pound paint shop and rapid prototyping laboratories.
A word from Triumph themselves
Nick Bloor, the firm's current CEO said:
"Over the 31 years since we re-launched Triumph, we have shared so many great moments with our fans across the world.
From returning to the TT champions arena, to entering the MotoGP paddock with our Moto2 engine partnership to supporting the Distinguished Gentleman's Ride; Triumph's success has always stemmed from the passion and commitment we share with our riders.
"With the forthcoming launch of our brand-new Tiger 1200, new competition MX and Enduro motorcycles, plus our strategic partnership with Bajaj to create smaller-capacity bikes, I am delighted to say that the future for Triumph and its fans across the world will be just as exciting and rich as the last 30 years has been."
From the first steps to a firm with five manufacturing sites around the world and 700 dealers in 57 countries, it's been quite a trip. Imagine if you think of those early Daytona and Trophy models, then look at where Triumph is now. Who knows what the next million will look like? I have a gut feeling we won't have to wait as long as 31 years!"
Watch the video below to learn more